| | | |
| --- | --- | --- |
| 3rd meeting | OPIMA | meeting notice |
| Sunnyvale, CA | Open Platform Initiative for Multimedia Access | rev. 0 |
| 98/09/09-11 | | |
The 3rd OPIMA Meeting will be held at
Freemont Room
Network Meeting Center TechMart
5201 Great America Parkway
Santa Clara, CA USA 95054
on 09-11 September 1998.
The meeting is sponsored by InterTrust Technologies Corporation. InterTrust will host a dinner at the Network Meeting Center on the evening of the10th.
Please note the deadline of 11 August to register your attendance at the meeting.

Meeting objectives and structure
With the OPIMA Call for Proposals out and Proposals by interested parties due by 31st August, the purpose of the meeting is to
listen to presentations of proposals
discuss and compare proposals
select the most promising ones
begin to build a first skeleton of specifications
The meeting is likely to be split in a few parallel/sequential groups

Logistic information
The Westin, Santa Clara, is adjacent to the Network Meeting Center. They have offered a rate of $179 for those who book early. This rate may change without notice. You will need to book this directly, and guarantee the reservation against your personal or corporate credit card.
Contact: 5101 Great America Parkway,
Santa Clara, CA.
Phone: +1 (408) 986-0700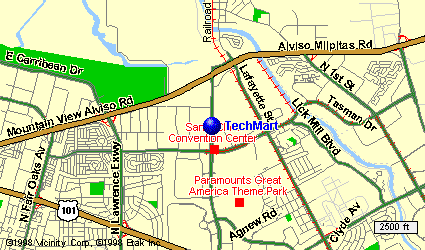 Other hotels in the area which may be able to provide accommodation
(with approximate rates) are:
Embassy Suites Hotel (c.$215)
2885 Lakeside Dr. Santa Clara, CA
(408) 496-6400
Residence Inn ($179-$199)
750 Lakeway Dr. Sunnyvale, CA.
(408) 720-1000
Days Inn (c.$104)
4200 Great America Pkwy. Santa Clara, CA.
(408) 980-1525
Sunnyvale Hilton (c.$150)
1250 Lakeside Dr. Sunnyvale, CA.
(408) 738-4888
Santa Clara Marriott (c.$219)
2700 Mission College Blvd. Santa Clara, CA.
(408) 327-6800
Accommodation in Silicon Valley is always very scarce. We encourage you to book as soon as possible. If left till the last minute there is a high degree of probability that you will not be able to find nearby accommodation at all.

In order for us to confirm numbers for the meeting, we strongly request that you register for the OPIMA event by Monday, August 11. There is no registration fee for those who register before this date.
To register, please send a fax or an email message with your details (name, company affiliation, email address, phone, fax) to: leonardo.chiariglione@cselt.it
Weather: Typically 70's (F) (low 20's centigrade) and clear.