| | |
| --- | --- |
| FIPA | 97/11/16 |
| FOUNDATION FOR INTELLIGENT PHYSICAL AGENTS | Munich |
| Source: L. Chiariglione | munich_photo |
Photos from Munich
Paul O'Brien, chairman of TC1.
Donald Steiner, the meeting host and chairman of TC2.
Ian Dickinson, the editor of part 2.
Yeun-Bae Kim and Fergal Somers, editing part 3.
Manny Aparicio, chairman of TC 4 and editor of part 4.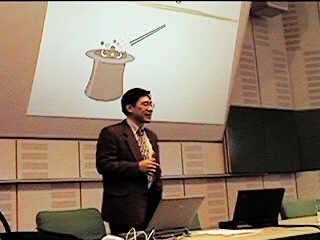 Key-sun Choi, chairman of TC 6, reporting at the final plenary meeting.
Rob Hadingham, editor of part 7.
Tianning Zhang, editing part 7.
Toyoaki Nishida, busily drafting the 3rd FIPA Call for Proposals.
Wiet Bouma, chairman of Special Interest Group on Standardisation and Fabio Bellifemine
Leonardo Chiariglione, announcing the approval of FIPA 97 at the end of the Munich meeting.